The announcement that the Royal Wedding will take place on 29th April 2011, has allowed some guesswork on her possible time of birth. Since Juno is always active when one gets married and there is no such activity in Kate's planets, then Juno has to be transiting her MC or Asc. on that day.
This is further confirmed when we consider that the initial wedding announcement took place with transiting Juno at 17 degrees Virgo, and on the day of their wedding, transiting Juno will be at 14 degrees of Virgo retrograde. So on both occasions transiting Juno is in the same few degrees of the zodiac.
So, Kate's Asc or MC may be around 15 degrees of Virgo. She was born around 03.55am if we put Virgo on the MC, and around 21.23pm if we put Virgo on the Asc.
The 03.55am time then makes sense since it puts her Moon at 9 degrees of Cancer. (Closer to his) The composite Moon between her and the Prince then stands at 7 degrees of Cancer and this will be opposed by Pluto at 7 degrees on the day they get married.
The Scorpio Asc and Virgo MC are interesting, since the press are often heard to say we know little of her.
Kate's Asc would be at 23ish degrees of Scorpio, and this is an important point for the royal family since the Queen's MC is at 25 degrees of Scorpio and Prince Charles's Sun is at 22 degrees of Scorpio. Kate would fit in brilliantly with this!
Whilst this birth time is obviously being offered for astrologers to consider, and it may in time prove completely wrong…..we have to start somewhere! Anyone got any constructive comments?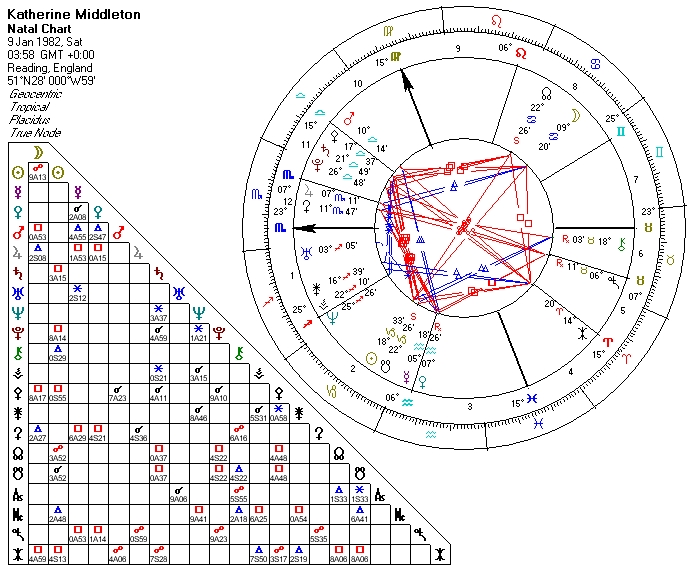 In composite with Prince William:-