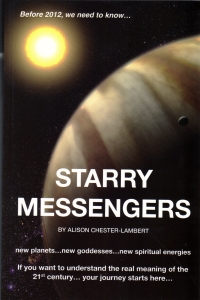 The First Limited Edition of
Starry Messengers
Later re-published as `Future in the Stars` but without the original funnies. This is the original, as written by the author.
by Alison Chester-Lambert
only £10 plus p&p - Buy below
This book was first published by The Midlands School of Astrology in a limited run of just 300 copies. The printer then went into liquidation so there can never be a re-print.
It is about the discovery of a whole new region of the Solar System and what that means for the human race in the 21st century. It was wrriten for all to understand, including those who do not know astrology. However it has also been hailed as a classic text for astrologers by the Astrological Journal of the UK and Dell Horoscopes of the USA.
It contains timeless and ancient wisdoms that have never been illucidated before. For instance, Alison takes apart the myths about the underworld as perpetuated by the Christian belief systems and demonstates the healing, magic and strength that can be found there.
Kindred Spirit said "In her astonishing book..... Alison brings together the opposing worlds of Science and astrology as if they were two halves of a jigsaw and the completed image hits home with a raw and pertinent truth."
There is now just one box of these books left and they are being sold at only £10, plus postage and packing. This book was and still is, hailed as a classic with brilliant insights and predictions for the 21st century. You do not need to understand astrology to read it.
Quote from the Kindred Spirit review:
"Starry Messengers brings together the two opposing worlds of science and astrology as if they were two halves of a jigsaw and the completed image hits home with a raw and pertinent truth." Kindred Spirit magazine
Reviews of Starry Messengers from the Astrological Journal and Kindred Spirit: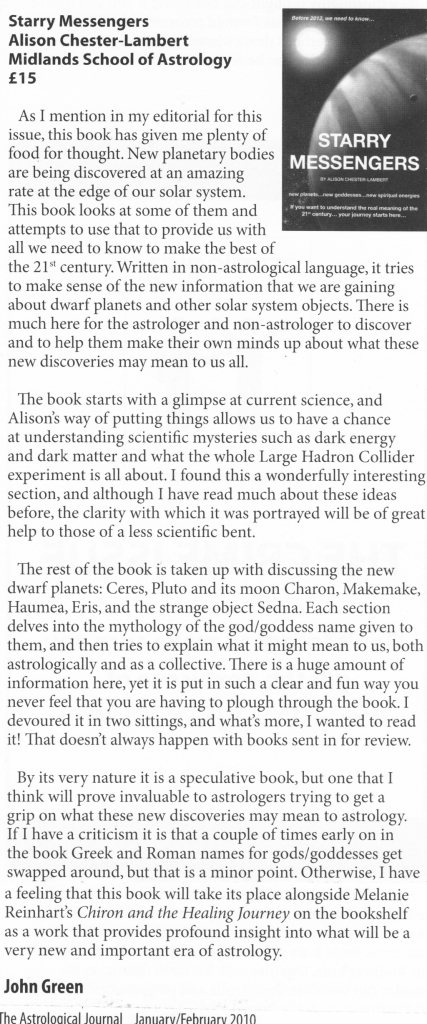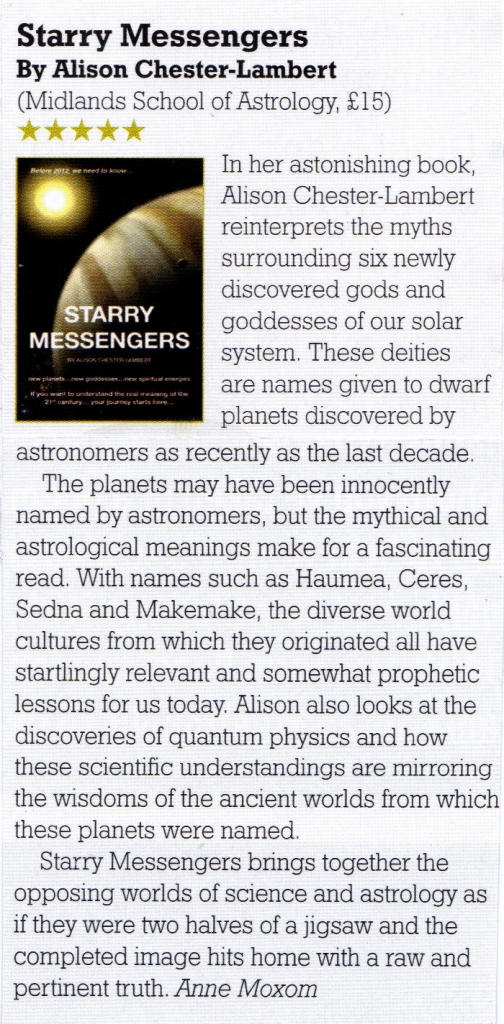 Buy now for only £10 plus postage
For UK or World sales
use this Paypal button
UK sales postage plus book £12 World sales postage plus book £19 (choose the drop-down)