---
Alison has lectured all over the UK and Europe. She did a lecture tour down the west coast of the USA in 2011, taking in Mount Shasta, Sacremento and Los Angeles and has appeared on TV in the USA.

This is the pilot for her new TV show (2014) and she is being interviewed by Kevin Moore on The Moore Show. It was filmed via video conferencing. The subjects include what astrology is and how it works, the Meaning of Life and how we can improve things for ourselves.

Click here or on the image to view on YouTube
---
h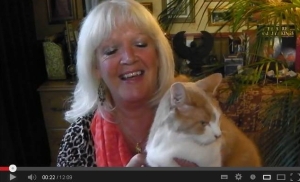 .
Click here or on the image to see one in a series of YouTube videos that describe the attributes of the Zodiac Signs.This particular one is the LEO energy, but they are all on the Alison Chester Lambert Youtube channel.
A person's personal horoscope is a map of the planets at the moment of their birth, but it also contains more. For the Earth is at the centre of invisible segments of the sky - like being in the middle of a cake. Or think of this as a golf ball at the centre of a Terry's chocolate orange. The wedge shaped segments around the golf ball are portions of the sky and each one is a Zodiac Sign.
So when each of us was born all of the Zodiac Signs were present and there is a bit of each in all our birth charts. Some of these are exaggerated and therefore more important and some are fairly muted. This video describes the Leo Zodiac Sign, so Leos should be able to recognise themselves, but others might find it familiar too.
---
The Internationally Acclaimed
Midlands School of Astrology
ONLY £300 for a complete astrology course with all the printed notes!
That's 20 x 2 hour astrology lessons in a group
Astrology Groups are starting all the time. As the list fills with 5 names, a group starts, so contact Alison to get your name on a list.
The groups can be in a physical place in the Midlands, or in cyperspace
via group video conferencing.
This means you an join a group from anywhere in the world!
What is astrology? A system for deriving self and future awareness by analysing the behaviour of the Cosmos. And when we learn of our planetary energies, we connect with the Soul of the Universe.
Astrology classes for self development and future awareness are taught all over the Midlands, with a range of classes and one-off seminars from basic through to more skilled.
Classes are small and friendly, with groups remaining friends for years after. This is a special journey and it`s nice to share it! If you tried to understand astrology before, but couldn`t -- you will this time!
Alison has an entirely new way of teaching, that is much easier to understand than other methods. The Basic Astrology Course is full of simple but interesting and intriguing materials, and after just 25 lessons, you will be reading horoscopes.
Most importantly, you will understand yourself and your relationships in a way that you never thought was possible. Astrology`s great gift is how it enables you to see things in a much deeper and more enlightened way. You will become wiser and more in control of your own destiny.
By mixing psychology with astrology, Alison has developed classes and seminars that offers an unparalleled journey into probably the most revealing and breath-taking awareness experience available. Some of the one-off seminars do not require a knowledge of astrology, simply an enquiring spiritual awareness.
To enquire how to join live groups or on-line groups, please phone or e-mail so you can be put on a list for the new year.