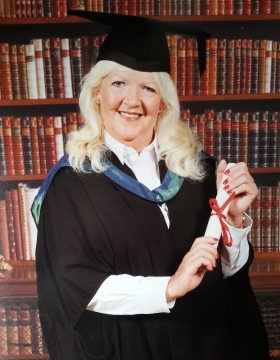 Alison Chester-Lambert has been passionate about astrology ever since she read Linda Goodman`s `Sunsigns`in the 1970`s. She finally took the plunge and became a professional astrologer in 1998.
Why astrology? Alison says this:
"Nothing I have ever come across is so breathtakingly insightful and so richly rewarding. To be able to know the deepest depths of yourself and others in this way is astounding. So much pain and misery can be healed through this understanding.
Here is a little story I never tire of telling. I was working for an astrology telephone liveline when a call came through to me from a woman speaking from a maternity ward in a hospital. She told me that she had given birth to her baby the day before, but some tragic reason he died in her arms a few hours later. I could never imagine such pain.
She gave me his birth details and asked me to tell her about her son. Using his horoscope, I was able to tell her about his fiery temper, (she whispered he had red hair after I said this) about how he would never have shut up - he was such a talker, and how he would have loved computers. All the time I spoke about him my voice remained steady whilst tears poured down my cheeks. After 20 mins the computer automated system told us it was the end of our call. She whispered "Thank you....you have given me my baby..." and then the call was ended......
As I sat there, overcome with her pain and bravery, I thanked the Divine for astrology. And all the studying, all the money spent on courses and books suddenly became worth every penny. At that moment I knew that even if I had only been given just that one incredible chance to help someone...it was all worth it."
Training
Alison trained at the Faculty of Astrology in London for a year, and then for a further year at the Centre for Psychological Astrology in Regents College, London in the late 1980's. She then worked for the astrology telephone lines of The Sun, News of the World and Sunday Times newspapers for over 2 years before moving from London to Tamworth in 2002. Here she continued to study Psychology and develop research skills at the Lichfield campus of Staffordshire University. She has now completed a Masters degree in Cultural Astronomy and Astrology at the University of Wales Trinity St David.
Writer and Broadcaster
Alison was a regular columnist for The Astrological Journal, Paradigm Shift magazine and Soul and Spirit's website. In 2009 she worte a book entitled 'Starry Messengers' which describes our future in the 21st century and this was later revised and re-published as 'The Future in the Stars' by Findhorn in 2010. A deck of cards and book called the `Astrology Reading Cards` was then published in 2011. Followed by the Greek Mythology Reading Cards. Her next book called `The Sex Life of the Sun` is due out soon.
Alison has many BBC radio and American TV credits, she had a regular monthly slot on the Sandie Sedgebeer radio show from 2011 to 2014 and now appears on the Virtual Light Broadcast out of Los Angeles on the last Saturday of every month.

Teacher
Having moved to Tamworth from London, Alison set up the Midlands School of Astrology which has since been turned into a cyber-school and currently teaches on-line astrology courses and workshops via group Skype. She has taught astrology up and down the UK, and her West Coast of America tour in May 2011 and European tour in 2013 were huge successes.

Serious Astrological Scientist and Researcher
Alison is also engaged in cutting edge astrological research and has presented papers for peer review. She has developed new astrological lore and theory on the planets of the Kuiper Belt and the Dwarf Planets. Her cognitive psychology research paper called `Mercury Neptune and the Ability to Recall was published in Correlation The Astrological Association Journal of Research in Astrology, Volume 27 (1) 2009. Alison has a Masters Degree in Cultural Astrology and Astronomy from the University of Wales, Trinity St David. Her dissertation has been published on-line here.

Community Worker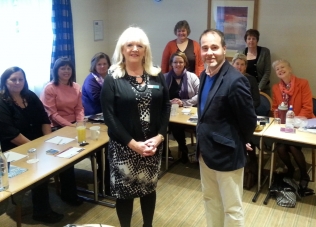 Alison has undertaken voluntary work in the Youth Justice system, and was a Community Panel Member for the Youth Offending Service. This entailed taking part in the dispensing of justice to young offenders and supporting their rehabilitation into society.
She is currently the chairperson of the Sutton Coldfield WiRE womens business networking group.
Here Alison is pictured with the Member of Parliament for Tamworth,
Mr Christopher Pincher, M.P. in 2015
Client Testimonials:
"I have had 3 readings from Alison, and every time she never fails to amaze me with accuracy and wonderfully postive words. She has been a true blessing. A very talented, brilliant, professional and truly lovely lady." - Suki D.
"Wonderful, and I do mean WONDERFUL to contact such an amazing person. Now I am so excited about the future." - Chris
"What an amazing reading and time I had with you. Thank you so much for all your expertise, humour and understanding. You have offered a hugely positive ray over my existence." - Andrea
A Review of a Reading/Consultation with Alison Chester-Lambert:
"Yesterday, after months of being at rock bottom emotionally and physically, I had an astrology reading with Alison Chester – Lambert, and today I sit here at 5.30am with a great big grin on my face knowing that somehow it has turned my life around!!
Now I know how that sounds. . . and I know that if I had read it, I too would probably have had a bit of me that said "Yeah right" ! Mmm , I know, I cant quite believe it myself but somehow it actually feels that there has been a major shift. I was originally just writing this in my journal, but, when something so magical happens you just want to share it with everyone, and so I asked Alison if she would like to use it as a testimonial on her website.
Over many years I have read hundreds of self help books, attended workshops, gone on retreats even had therapy, all in an attempt to find that elusive piece of the jigsaw puzzle that is me, and although each of the above offered insights into areas of my life to 'work with' (ie; unresolved childhood issues etc. that have affected my life) it was Alison that gave me the key to understanding WHY !! In the first five minutes of speaking with her, she had described my whole life as if she had known me personally for all of it.
It suddenly made sense, she had managed to switch on a light in the darkest recess of me that no amount of my searching had managed to do. Don't get me wrong, I have a major challenge ahead of me which will, I know, take courage but now I am no longer dancing in the dark. I now know my mission, and further into the reading I was given many ways to finding the keys that will unlock my full potential.
Alison has a truly unique way of guiding you through the closets of your life, opening each door with such care and understanding and showing you where, when and why it is as it is. She made me laugh and cry but most of all she removed the blinkers that I had been wearing for most of my fifty plus years. This truly does feel like the first day of the rest of my life and all due to one phone call with one extraordinary lady.
Thank you Alison, from my very soul which can now, at last, begin to shine its light"
- Sandra M.
Professional Testimonials:
"At last........ a sensible, inspirational and professional book about 2012 and the 21st century. Based on quality research and knowledge, but written in an entertaining and engaging fashion. Spiritually fascinating and one of the best 2012 books so far."
Jayne Smith, contributing writer, Paradigm Shift Magazine
"Alison's work is in a class of its own, not only insightful, but witty and very readable. She is a thoroughly entertaining and gifted writer."
Jacqui Hagen, Features Editor, OVL Magazine
"Wonderfully interesting, clear, fun and packed with information for the spiritually curious. An understandable book you WANT to read and can't put down. This will prove to be an invaluable classic, providing profound insight into this new and very important era."
John Green, Editor, Astrological Journal
"In her astonishing book Alison reinterprets the myths surrounding six newly discovered god/desses in our Solar System....... the diverse world cultures from they originated all have startlingly relevant and somewhat prophetic lessons for us today. She brings together the opposing worlds of science and astrology as if they were two halves of a jigsaw and the completed image hits home with a raw and pertinent truth."
Anne Moxom, KINDRED SPIRIT Magazine