Venus Eclipse of 16th May 2010
At the moment, you can see Venus every night just after Sunset. She is a brilliant diamond light in the sky and could be mistaken for very bright star. Last night the crescent Moon stood silently next to her in the sky, but around 9 hours before, the Moon had passed between the Earth and Venus, ECLIPSING her light. This is called a Venus eclipse or `occultation`.
In astrology, Venus represents money, success, security, aspiration, so the Moon (focus and attention) eclipsed that meaning at midday yesterday.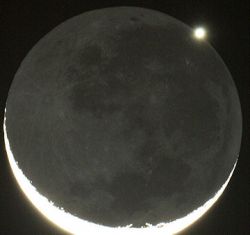 To the ancient astrologers who would have advised the kings and rulers of ancient dynasties, this would have portended or predicted something very significant.
It says that the wealth, aspiration and success of the population will suffer disruption and many months of austerity and hardship will come.
Now this is no news at all, because our new financial leader, George Osbourne has spoken of these very things this morning. He talked of "black holes" in Labour's financial accounts. Funny how a Venus `black-out` coincides with this announcement.
It is interesting to see how astrology mirrors the actual and real events in our world. The timing is amazing.
Image by Armando Lee of the Philippines on spaceweather.com