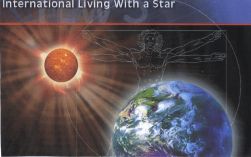 Last year I wrote a seminar and article on the relationship between the Sun and Earth. Both the physical one and the astrological one. Amazingly, on July 21st 2010, as the transiting Sun prepared to burst into its own sign of Leo, NASA published an article called `Space Weather Turns into an International Problem` and scientists gathered at a meeting in Germany called `International Living With a Star`.
Nasa's article says:
"Spacecraft and ground-based observatories have shown that Earth is located in the sun's outer atmosphere, buffeted by solar winds and pelted by hail storms of energetic particles. Moreover, the two bodies are actually connected by invisible threads of magnetism. During "reconnection events," which typically happen several times a day, you can trace invisible lines of force all the way from Earth's poles to the surface of the sun. "The Earth and sun are interconnected. We cannot study them separately anymore," says Guhathakurta"
In a previous webpage NASA says the following:
During the time it takes you to read this article, something will happen high overhead that until recently many scientists didn't believe in. A magnetic portal will open, linking Earth to the sun 93 million miles away. Tons of high-energy particles may flow through the opening before it closes again, around the time you reach the end of the page. "It's called a flux transfer event or 'FTE,'" says space physicist David Sibeck of the Goddard Space Flight Center. "Ten years ago I was pretty sure they didn't exist, but now the evidence is incontrovertible."
Never has a scientific declaration come closer to admitting an unseen invisible influence which comes from the Sun and affects our behaviour. In short….. astrology.
They have accompanyied the article with the beautiful image above. This could only have been accepted by esoteric spiritual websites until recently. Hey...we're getting there!
Please read my article on this website (shortly to be published in the Astrological Journal) and check out NASA`s at addresses below:
PHILLIPS, T. (16 July 2010) Space Weather Turns into an International Problem; Science@NASA; http://science.nasa.gov/science-news/science-at-nasa/2010/16jul_ilws/
PHILLIPS, T. (30 October 2008) Magnetic Portals Connect Earth to Sun; NASA; http://science.nasa.gov/science-news/science-at-nasa/2008/30oct_ftes/